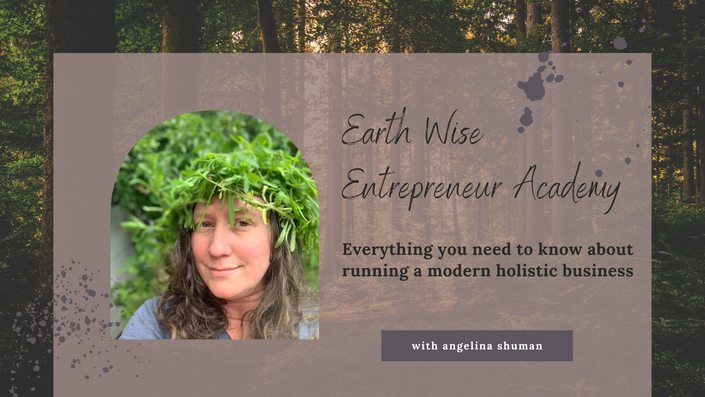 Earth Wise Entrepreneur Academy
Everything you need to know about running a modern holistic business
Enroll in Course
**Earth Wise Entrepreneur Academy opens its doors October 11th! Sign up now to reserve your seat.**

Are you a newly certified holistic entrepreneur that has a million ideas about what kind of business they want to run, but are struggling getting your message out there?
Maybe you've been hustling away at this for a while, but want to expand your offerings to online courses, coaching, or a web shop.
Or perhaps you know exactly what you want to do, but don't have the time to spend hours on learning the tech of all the different websites, software, and programs that you 'need' to run your business.
Then you have come to the right place. Earth Wise Entrepreneur Academy is here to show you exactly how to use online spaces to grow your customer base, to teach your courses, and to provide 1:1 consultations. AS WELL as how to price products and services, and how to work in a local venue if online really isn't where your business lies.
Here's what you'll find inside Earth Wise Entrepreneur Academy:
Module 1
You'll learn about the different ways to market your business both online and in person. You will learn the importance of growing an email list, how to utilize social media as a marketing tool, and the different avenues of advertising. We also go into detail about how to utilize giveaways to grow your audience.
Module 2
Here we go into detail about the very social media platforms. Learn how to reach and engage your audience on Instagram and Facebook, and learn about how to you can run free courses on Facebook. We also discuss other platforms such as Tiktok, and how to use Pinterest to drive traffic to your website.
Module 3
Next we learn all about Sales Funnels. How we can attract our ideal customers, how to use Freebies as Lead Magnets (different than giveaways), and about the different tiers of value in your offerings.
Module 4
the meat of the program~how to create courses both online and in person. You know what you want to teach, but don't know how to share it with others? This is for you. I'm going to show you different ways to run your courses online for free as well as a hack to get started on Teachable without spending tons of money. I will also have a full Teachable tutorial so you can make your courses look amazing! And while pricing is surely subjective, this module will cover what to consider when you start working on pricing your programs.

And if you are wanting to teach live in person workshops and classes, I will share with you how to find spaces to host your classes, how to create repeat customers, and how to price your classes as well.
Module 5
This is a module that will benefit folks who are focusing on production. Here we talk about the benefits of preselling, how to source supplies, legalities and GMP, pricing (this is easier as there is a nice handy formula!), how to sell in person, how to sell online, and the ins and outs of wholesale vs. retail.
Module 6
Then we go into all about Coaching and Consultations. This is where we begin to talk about time vs. money. If you've been in the business a while, this will really speak to you. We talk about how to attract clients-this is a wee bit different than attracting customers and students! How to create boundaries from the beginning so you don't end up like me! How to set up group coaching, how to run one on one consultations and the pros and cons of both, and all about the technology involved.
Module 7
This is where we talk all about branding. This can be the most difficult part for some folks! We start off talking about developing your mission statement and how that is the basis for your brand. We discuss your logo and how to unveil exactly what your vision is. We go into brand colors and the benefits of being consistent or fluid. And then the big one-do you hire out a designer or try to DIY?
Module 8
This may be the most important module of all. Work/Life Balance.
Here we talk about how to pay attention to your energy and why it is so important. we learn about scheduling so you don't overwork and overwhelm yourself. I talk a bit about how to use herbs for self care (of course I do ;) ). And the we wrap it up about the differences between hustle & flow.
This course contains the exact tools I used to create and run my online herb shop, as well as teach live and virtual courses, and build a consistent base of 1:1 clients for the past 8 years. I have made a ton of mistakes over this time, but you will benefit from those mistakes as well as learn everything I know about how to successfully run a holistic business.
Your Instructor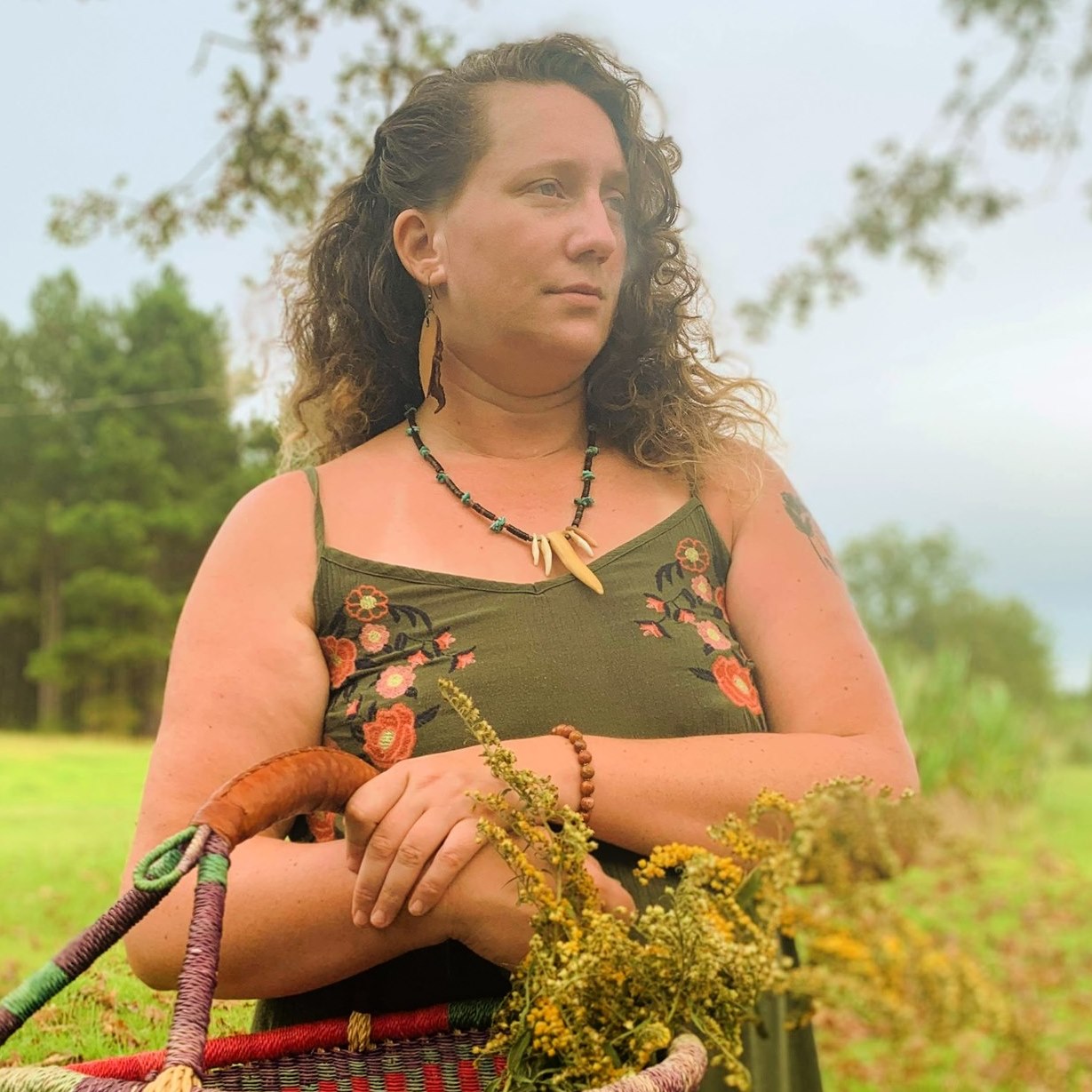 Angelina is a German folk herbalist who immigrated to the United States when she was a small child. She grew up learning about traditional folk remedies from her mother and grandmother and was always crafting potions from nature. In 2010, She received formal training in Traditional Western Herbalism and is currently a student of Astroherbalism through the School of Evolutionary Herbalism. Her passion is connecting people with their own ancestral medicine through story, plants, and food.
Course Curriculum
Welcome to Earth Wise Entrepreneur Academy!
Available in days
days after you enroll
Module 1: Marketing-How to Reach Your Customers
Available in days
days after you enroll
Module 2: Social Media
Available in days
days after you enroll
Here's what's included when you enroll:
Lifetime Access
Step-by-step tech tutorials
All content available as soon as you enroll
Action steps for each lesson
Private, supportive community of students + colleagues
Go at your own pace content

Business Set-Up checklist
**Pay in Full Bonus**
Content Creation Template Package Including:
Instagram Post and Story Templates
Facebook Post & Cover Templates
Pinterest Templates
Slide Deck Templates
Q: I am at the beginning stages of my business and don't have anything for sale yet. Is this course for me?
A: If you're still at the baby stages of your business (no website, nothing for sale yet) this is the perfect time to take this course! You will have all the tools you need to launch your offerings!
Q: Will this work for me if I sell X?
A: This course will work for just about anyone who sells anything. I am focusing on holistic entrepreneurs because that is my background.
Q: What if this doesn't work for me? Can I get a refund?
A: You may request a refund within 24 hours of purchasing this course. Because it is a digital offering, I want you to make sure you are 100% committed before enrolling - and I happy to answer any questions you have to make sure Earth Wise Entrepreneur Academy is the right fit for you before purchasing.
E-mail [email protected] and I'll be happy to help you out!

Q: How long will this course take me to complete?
A: The course content itself is around 10-15 hours. However, the ACTION steps (creating your landing page, course content, emails etc) is what is more time consuming. I cannot give you an exact estimate because it will depend on your schedule, speed, and a variety of other factors, however as a general rule of thumb - it shouldn't take you more than a month to set up.
Q: How long do I have access to the course?
A: Because you have lifetime access, you can start whenever you want and take as long as you want. There is no deadline or time limit.
Q: What kind of programs do I need to purchase and/or what platforms do I need to use?
A: You do not have actual purchase any programs or software. You may eventually want to have your own domain name and website, but it is not necessary. The main platforms I recommend using are:
Instagram and/or Facebook
Canva
Teachable
Mailchimp
Linktree
All platforms and software have free & paid options that will be discussed inside the course.